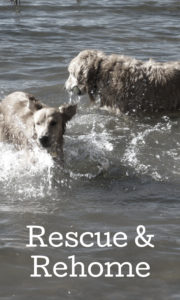 Our Mission
To rescue and re-home Retrievers and find new, loving homes for them.
We have positioned Fetchin' Retrievers Rescue to partner with veterinarians, dog trainers, groomers, and other rescue groups as a resource for these professionals and organizations if they encounter dogs in need. We are primarily focused on the following types of Retrievers: Golden Retrievers, Labrador Retrievers, Flat Coated Retrievers, Curly Coated Retrievers, Duck Tolling Retrievers, Chesapeake Bay Retrievers and Retriever mixes.
Fetchin' Retrievers Rescue only operates in the following areas in Southern California: Los Angeles, Orange, and San Diego Counties.
So Many Ways to Help Retrievers
The Fetchin' Retrievers Rescue is run entirely by volunteers.
Your contribution will help us whether you foster, adopt, donate, or volunteer!  Fetchin' Retrievers Rescue will take the very young to the very old, the very sick to the unwanted. Every dog is an individual and will be placed in a home that meets their needs and where their individuality can thrive.
Andy's foster - to - adopt success story written by his forever family: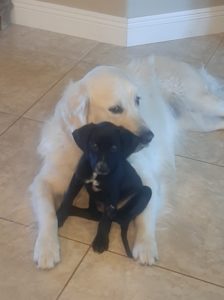 "Early in 2022, we started the process to find our Golden Retriever girl a companion and adopt a rescue dog in need of a good home. We submitted an application to FRR and subsequently had a virtual home visit. We were impressed by the thoroughness of both, as it gave us confidence that FFR clearly had the best interest of their animals in mind.  We were eventually contacted by a FFR volunteer to ask if we would be willing to foster a 9-week-old Labrador Retriever/Dalmatian cross pup.  While the timing was less than ideal due to some upcoming summer plans, we agreed to foster one of the pups for as long as three weeks. Two days later, a tiny black male pup with a spotted white chest was delivered to our home.  He looked like he is wearing a tuxedo.  He came with the name, Andy. He was a world-class cuddler who immediately began to work his way into our hearts. Our golden retriever soon welcomed him into our home as well.
Within a couple of weeks, it became apparent that this foster puppy was going to be adopted as a member of our family.  It also became apparent that Andy was the perfect name for him.  It just fit, not only in his cute appearance but also in his behavior and antics. Andy was one of a number of puppies that we have brought into our home over the years, and we have always been sticklers about health, wellness and neutering.  So, it was great to see that FFR also insisted on this same level of care and attention.
Andy is now 6 months old. He has adapted well to our home and lifestyle.  He has even traveled with us to our Idaho home for three months.  He is still all puppy: filled with the energy, entertaining antics, and occasional mischief that make puppies fun.  He and our golden retriever are now fast friends, so our efforts to find her a companion have been richly rewarded.  He has a desire to please, and he has learned basic commands and to walk well on leash and to heel faster than any dog we have had. And he's still a world-class cuddler.  Foster-to-adopt worked really well for our family. Thanks to FFR and all their dedicated staff for helping us bring Andy into our home."
Support Homeless Dogs By Sending Sympathies or Congratulations
For those times when you don't know what to say or have too much to say...remember, celebrate, or honor with a donation to a cause you care about. When you make your tribute donation to FRR of $20 or more and we will send them a beautiful personalized handwritten card on your behalf. Click here for more information.
We are proud to be a partner with the below organizations and we are committed to being a transparent non-profit.